How Arcadia's tech team are rethinking shopping for an online age
4 July 2019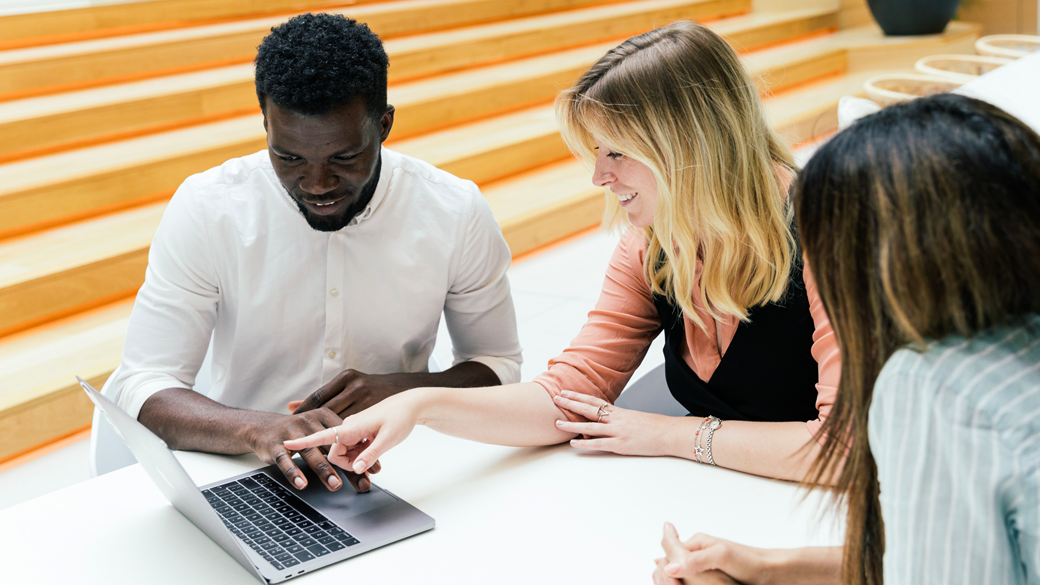 What are the challenges in leading the digital transformation of Britain's biggest style brands? We ask the team in charge…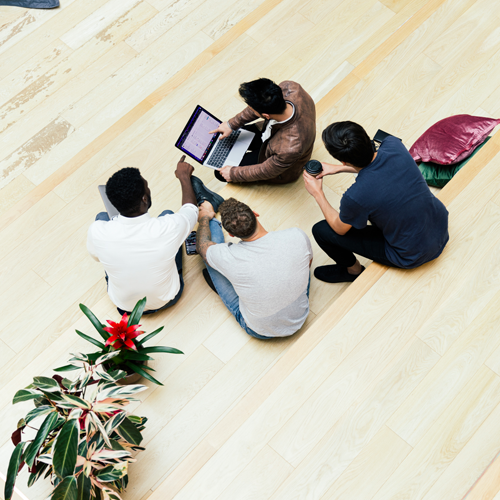 When you hear the name Arcadia, the first thing you think of probably isn't tech. Why would you? The company, which has its origins in 1903 tailoring firm Burton, has garnered its enormous success primarily from highstreet retail — bricks and mortar over clicks and data.
But things are rapidly changing. The highstreet is in decline (the equivalent of 16 stores close every day in the UK), footfall is down, as are sales. Arcadia itself recently announced a series of store closures as a part of a company-wide restructuring. 
But that's not the whole story. At Arcadia's London HQ, there is a growing tech team and a perhaps surprisingly upbeat mood as they navigate one of the biggest challenges in retail.
Tasked with implementing a tech-first strategy at the likes of Topshop and Dorothy Perkins, we chat to the people leading the transformation.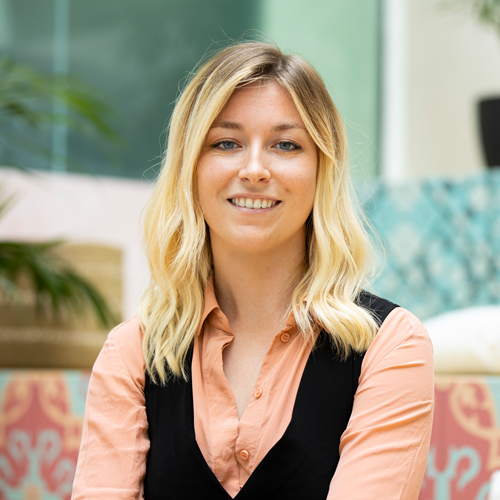 Everything has changed
"Nowadays it's so easy to pick up your phone and shop online, or even connect to your Instagram and shop off there," says business analyst Charlotte Wahl, who has been at Arcadia for just under a year. "It's that convenience that I think the highstreet is really struggling with at the moment."
It's an opinion matched by the statistics. A survey by uSwitch found that spending on smartphones is now so high in the UK that it's overtaken that in shopping centres. For Arcadia, the brunt of the competition for consumer spend on style comes from online-only operations such as boohoo, ASOS and increasingly, Amazon.
"Names like Topshop and Burton have historically been go-to brands," says Charlotte. "But it's not enough just to be a legacy anymore — we need to do something on top of that."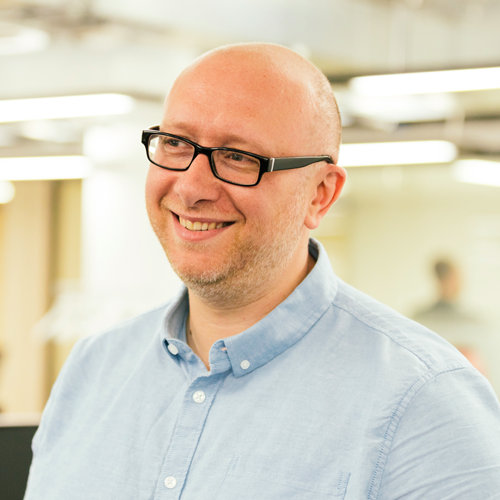 Investing in tech and teams
As for the solution to Arcadia's challenges, the consensus across the retail industry is clear: investment in technology.
"We're looking to increase the technology team by 40%, whether that's engineers or business analysts," says software engineering manager Joel Delane. "As a company, we know it's the right way to move forward."
Over £60m has been earmarked by Arcadia to enhance its own websites, improve the online shopping experience and boost more profitable sales, according to fashion industry trade paper Drapers.
"People are definitely coming around to it," says Joel. "There are still lots of hurdles and certain parts of the company that have to change with the times. But technology is now at the forefront of the business and its strategy."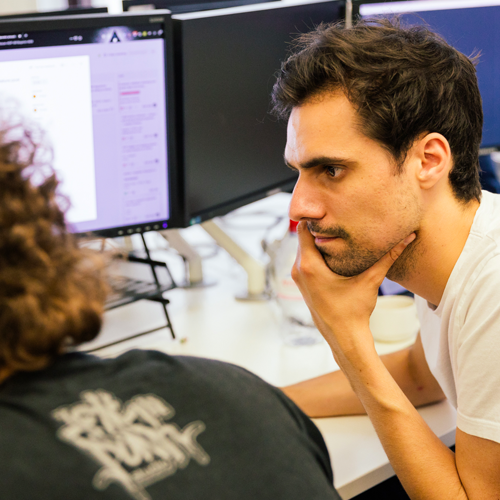 Getting buy-in from above
Any sort of digital transformation in a large organisation with non-technological roots will require full buy-in from senior management and the board if it's to stand any chance of success. For tech lead David Normington, an important sign of Arcadia's genuine tech focus is the big guns they've been hiring at the top.
"We've recently made some key senior hires within Tech, including a new CIO" he says. "That's a big change because that really makes digital a core part of the business, right at the very top on the board of executives."
And even when there are clashes between the Arcadia old guard and the tech new blood, Charlotte insists it always creates cause for collaboration. "There's obviously going to be a slight divide between younger people on the tech side and people who've been here for really long," Charlotte says. "But all you have to do is look at the data. 'If you do things this way, we are going to get more customers.' The proof is in the pudding, and that tends to get people of a more old-school mentality on board."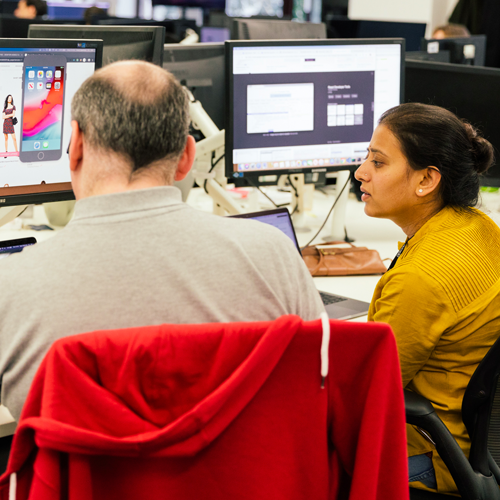 The challenges of heritage brands (and dated systems)
"Building tech into a heritage brand is quite hard," says Joel, especially when you're dealing with IT infrastructure that can be as much as 20 years old. "After all, you can't just scrap everything and start it all from scratch. But while you're obviously hindered by the legacy systems you work with, at the same time it's a hurdle you can get a lot of satisfaction out of by implementing really good solutions." 
Joel cites a fully responsive single-page React application website they've just rolled out to help Arcadia brands publish their own online editorial content. This and other changes are all done, the team claim, with one person in mind: the customer.
"Arcadia isn't simply changing to put technology at the heart of things," David says. "We're changing to put the customer at the heart. Technology is just a detail around helping them. So, if our customer is interested in cutting-edge tech, that's where we'll be looking to invest."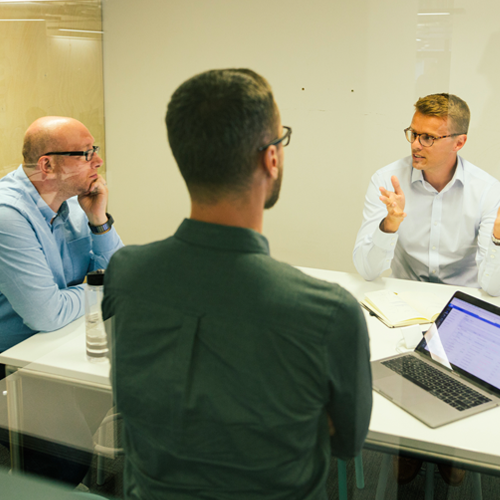 Reinventing the physical space
Does this newfound digital focus mean the days are numbered for the rest of Arcadia's many bricks-and-mortar stores? The answer is a resounding no. The group has allocated over £75m to improving their highstreet spaces. 
For Joel, the saturation and success of online-only retailers mean the company has to focus on what real estate can offer. He sees real-life shops as a unique string to Arcadia's bow, and says there's a gap in the market for brands utilising their bricks-and-mortar stores creatively.
"The physical space has to take on a different role," he explains. "Companies like Macy's and Levi's are using some really immersive ways to bring technology into their stores: digital catalogues where you can view products in-store, then find them in your dressing room. That's the kind of thing I'd like Arcadia to do too."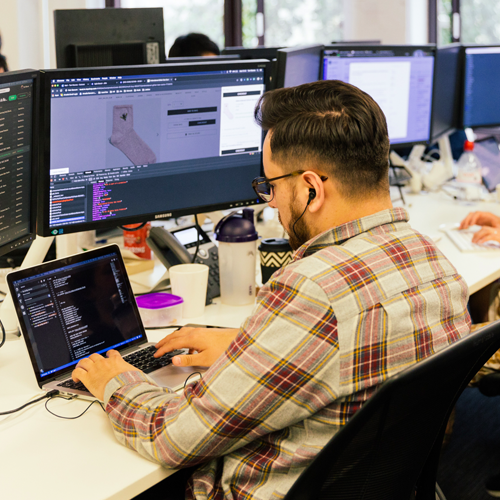 The future is bright… but very different
As we finish off our interviews with the tech team, it's clear that the digital transformation of Arcadia, and how modern consumers want to shop and spend, is an ongoing, ever-changing process. Every day there are seemingly new challenges and questions, and for an organisation with 115 years of heritage, even when those questions are answered, the solutions are rarely simple.
"Companies like ASOS, boohoo and PrettyLittleThing are focused mainly on technology," David explains. "That allows them to concentrate more on certain things, whereas Arcadia would have to spread those self-interests across a span of different avenues. But we're making a shift away from worrying about what our competitors are doing to think more about what our customers want."
Which, if the queues for Topshop's collaboration with Stranger Things — an immersive in-store installation with online sales on top — are anything to go buy, is an innovative mix of technology and the reimagining of the traditional highstreet shopping experience.
Click here to watch Arcadia's video interview.
Welcome to Talentful
We help talent leaders succeed by providing experienced in-house talent acquisition teams who are dedicated to your business via a monthly subscription model, allowing you to scale quickly and efficiently.