Inside Revolut: Meet The Global Digital Bank's Newest Team
17 December 2019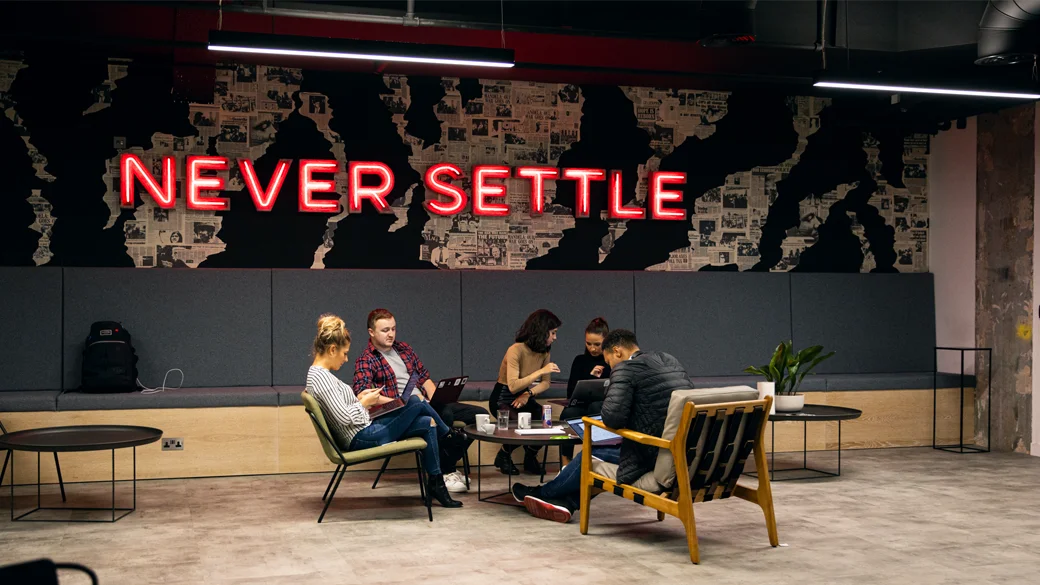 Revolut is out to democratise investing and is creating an A-team to get the job done. So, we head to Revolut's London HQ to find out what it's like to work there and how they've created a smart, entrepreneurial team culture.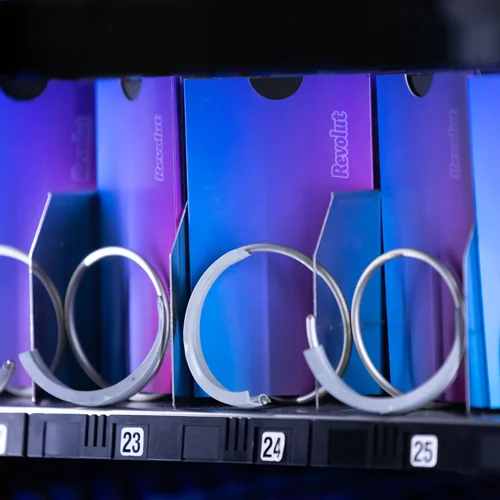 Revolut is the future of banking. Headquartered in Canary Wharf surrounded by centuries-old legacy banks, Revolut is the maverick of banking. When you step into their offices, there's a flurry of activity and not a single banker's lamp in the place. Just one looming, oversized neon sign that defiantly says NEVER SETTLE.
Hailed as one of the UK's mighty fintech unicorns, Deloitte recently named Revolut the number one fastest growing technology company in the UK for their 48,477% growth rate in their 2019 Fast 50 list. But there's more. 
Revolut has raised $340mn and is valued at $1.7bn. The company has acquired more than eight million customers in under four years. And from their ultra-modern new offices in Canary Wharf, they plan to hire 3,500 new ambitious employees to join them in their mission to democratise investing with their wealth and trading product.
Revolut also has plenty of supporters. Simon Cook, Chief Executive, Draper Esprit and Revolut board member and investor said Revolut is on course to be worth $10bn and match the size of Barclays.
We speak to André Mohamed, Head of Wealth and Trading at Revolut and two members of his team about why 'the ambitious, the smart and the entrepreneurial' should consider a move to Revolut for their banking evolution.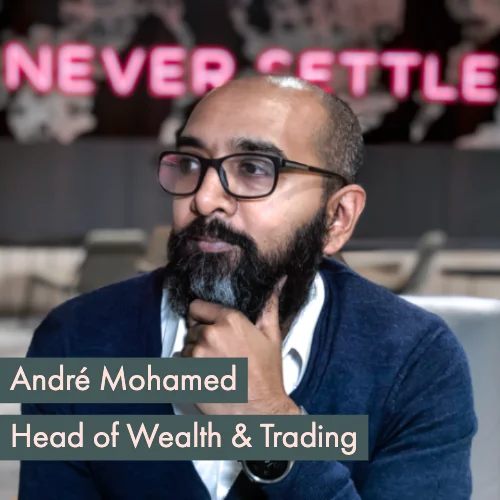 STAND ON THE SHOULDERS OF GIANTS
Mohamed, formerly the CTO and Co-Founder of Freetrade joined Revolut 12 months ago in a high-profile move that had the industry talking. And we can see why, when you chat with Mohamed, you're instantly inspired by his unwavering belief in Revolut's role to transform investing. 
"The scale and ambition at Revolut are breathtaking. It's a once-in-a-lifetime opportunity to have a seat at the table of the future of banking. Our wealth and trading product is probably the most exciting part of what we're doing," says Mohamed.
With a bespoke launch in August 2019, the Revolut product aims to break down existing barriers to stock trading by allowing customers to invest, commission-free, in 300 US-listed stocks. Sure, similar services exist, Revolut is the first European company that lets investors buy fractions of shares in global brands like Google and Amazon. 
"We are on a rocket ship at the beginning of our journey and building a smart, ambitious team will help us expand so we can deliver our industry-changing global platform for personal wealth."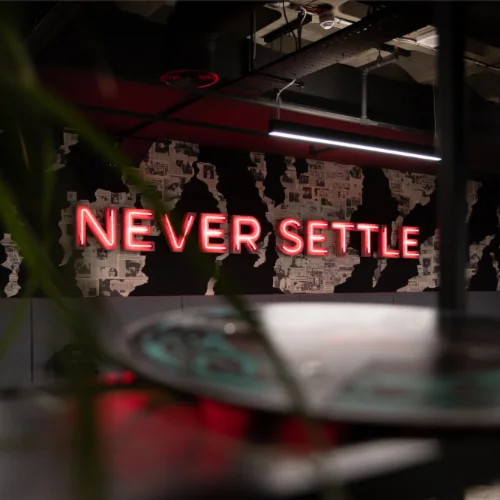 UNLEASH YOUR ENTREPRENEURIAL SELF
In the high-profile banking sector where glitches and outages become headlines, there's an increased pressure to make the tech run flawlessly at Revolut.
"When we launch a product at Revolut, the product is in the hands of millions of customers as little as two weeks after the code is written. This means we can iterate and make better products faster," adds Mohamed. 
With a large customer base and a high-profile sector where glitches and outages make national headlines, there's an increased pressure to make their tech run flawlessly.
According to Mohamed, when you're on top and a fast-growth brand, company culture is exposed to increased scrutiny by everyone in the industry. In the past four years, Revolut has experienced this numerous times, which can pose a challenge for recruitment.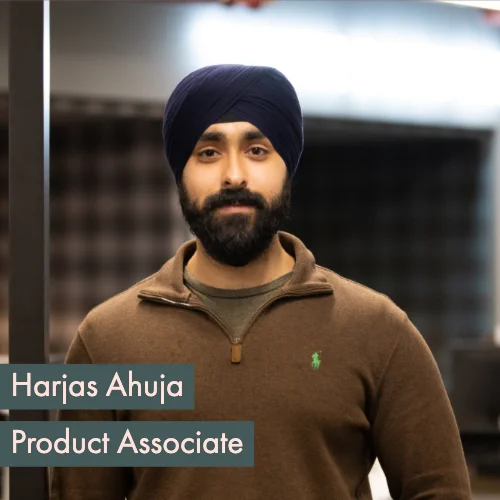 "These stories come up in every candidate interview," said Mohamed. "But our organisational structure is catching up with our exponential growth, and we've made it a mission to ensure that happens."
Harjas Ahuja, Product Associate, has been at Revolut since September 2019 and says he wasn't influenced by media scrutiny.
"If you look at Amazon back in 2011 when they were rapidly growing, there were a lot of bad articles written about them," says Ahuja.

"We have a lot of perks here that I value. But this isn't a startup where you can lie around on bean bags all day and play ping pong," adds Ahuja. "We are a fast-growing company that wants to disrupt an entire industry. That means a lot of hard work and getting that work done is what I pride myself on."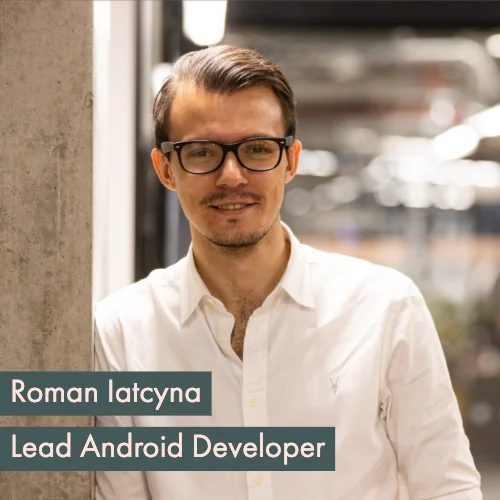 LIVE YOUR POWER
Mohamed says that working at Revolut is an opportunity to make an impact. 
"At Revolut, you have ownership, and if you're talented and good at what you do, you can shape your own path at Revolut," adds Mohamed.
Three-year Revolut veteran, Roman Iatcyna, Lead Android Developer agrees. "If you're the kind of person who's passionate about your work and want to be a part of a team and company making real change in an industry, Revolut is the place to be."
"I have big expectations for Revolut to become something like Uber in terms of global scale," says Iatcyna. "I love it that Revolut is a kind of extended family and everyone has the same passion for being a part of the company's success. I know I have the support here to do anything to make that happen."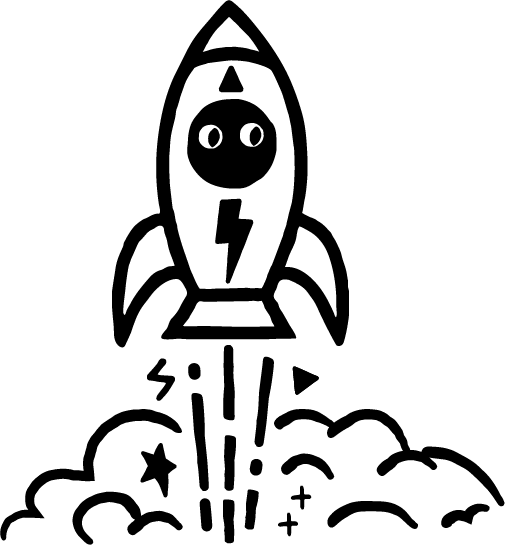 Ahuja is also on board with that sentiment.
"If the company's ambition and the opportunities in fintech excite you, there's no better place to work," adds Ahuja.
We left the offices of Revolut and walked out into banking mecca of Canary Wharf feeling empowered by one simple motto which permeated Revolut's offices — Never Settle. 
Feeling smart, ambitious and want to be intellectually challenged? Revolut is waiting for you. The time to make a move is now. 
Welcome to Talentful
We help talent leaders succeed by providing experienced in-house talent acquisition teams who are dedicated to your business via a monthly subscription model, allowing you to scale quickly and efficiently.